Welcome Little One!!!
---
Introducing . . . drum roll . . . Jason Dakota Krucek!!! Arriving in great, yet bruised condition at a meaty 8 pounds, 12 ounces, 21.5 inches long!
Whew! We're SURE glad THAT is over!!! :-)

I've finally had a chance to update the site and, of course, I've changed the format to be a little more organized.

Since we've got a new little one in the picture, I decided to give him his own section. . . so you'll see Austin's pics up until age 2 and you'll get to see the progression of our newest addition as well! :)


Birth Announcement
---
Has gone out, if you haven't received one - please check it out!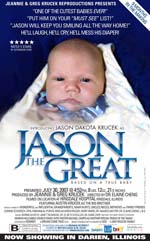 Our adjusting 2 year old!
---
Kissing the baby WAY too much!
Wants to play with the Jason constantly
Tries to give Jason ALL his toys
Tries to feed Jason and give him his milk bottle (at 3 weeks, Jason got bopped on the nose with Austin's milk bottle)